This week started of great. Got all my Cyber Crop challenges posted, and I was really happy with the way they all turned out. While I was cruising on the net I thought I'd better check my e-mail and I got a reply from 'Scrapbooking Memories' , they are considering one of my layouts, soooooo excited. Got it all packed up and ready to be sent of the next day. Hope it gets published, will be my first time ever. I've only submitted once before, so it was a huge shock.
Next Luke got his beloved Gemini registered. It went for a roady on the Monday only for it to fail, so we were both pretty happy when it passed on Thursday. Now we just have to get rid of the Torana, going cheap...... Anyone.
Then on Friday I found out that I won one of the Cyber Crop challenges.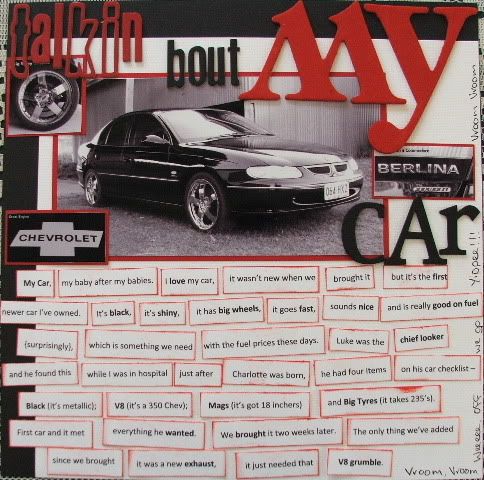 Other than that we nothing much has been happening. Luke did night shift all week, it was tiring, having to get the kids to bed and get something to eat while he wasn't there. I don't know how single mothers do it. I stayed up late all week, AGAIN, I think the earliest I got to bed has been about 11.30pm, get on line and have a look around the forums, try to do some scrapping in between. God knows I can't get anything done when the kids are awake. So far this week I've managed to do 3 pages, 1 canvas, 7 cards, and an OTP. Hoping to get some more pages done tomorrow.
Went to Yeppoon today with mum to see my Grandma. Took her canvas down. She loves it, fits in so well with her house too. Already up on the wall, and it looks great, brightens the whole room up. It was good to catch up, and we always get fed so well when we go there. My Grandma is such a good cook, makes the best Mango Cheesecake.
Enough for tonight, better go and do some scrapping.