I just got my computer back today, it was only gone since Monday but it feels like forever. Have so much to catch up on. There is nothing wrong with it, it just keeps shutting down Internet Explorer. All they can put it down to is the new system, VISTA. As we've only had this computer since February, actually ordered it two days after Vista came out. Why do these silly things have to happen to me. At least it doesn't boot us all the time, terribly unfortunate not to be able to get Broadband. Don't listen to what they tell you, told us we were able to get it, signed up, paid our money only to be told three weeks later that it's not extablished in our area yet. So it's old dial-up for us.
Sitting here catching up on all the news, when really I should be doing my Pringles tin for my swap. So far it's painted and I'm unsure what else to do. I suppose it will come to me, eventually. I've also got to make a start on my paper piecing swap. Have 5 butterflies to make, and arn't they intricate. That's going to take some time.
Charlotte has decided that she doesn't need to have a daily nap anymore. The past two days she hasn't wanted to go to bed, it's hard because by the time it's 6.30pm and we are having tea she is getting very cranky. Oh well. My little chook is growing up. Now I just have to get Zac to have a couple of sleeps a day and all will be great. He just gets to sleep, or should I say, I just get him to sleep, and Charlotte comes up and screams at him. It is very fustrating.
I've got a couple of pages completed since I haven't had a computer for a few days, not as much as I would like as I've had to keep my eye on the babes, but I guess it's better than nothing. I was very good on Monday when I was in town, just brought my Monthly Designer Kit from my LSS and that was it. I think Alicia was shocked. Usually go out with a couple of hundred dollars worth of products. I'm being good and sticking to my 20 projects challenge, although I think I might have reached that goal by now, will have to go through and do a tally of my pages. I'll start again before I go and buy anything else. I'm putting away $5 per page, so by the end I should have quite a bit of spending money, which will most likely come in very handy.
Just post a couple of my recent pages and that will be all for tonight.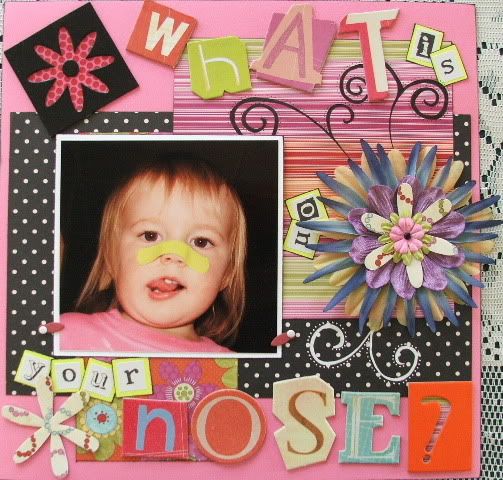 Ta ta
Nicole