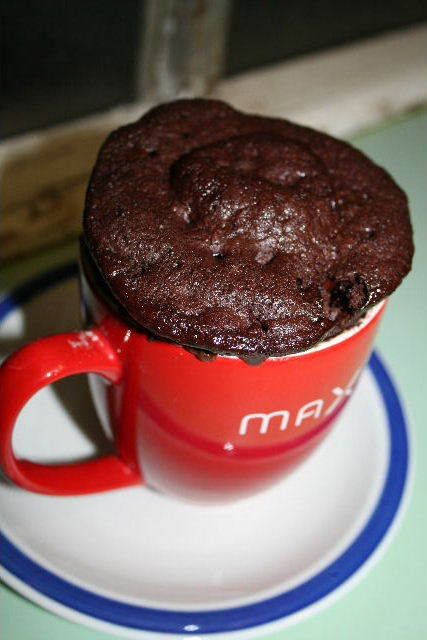 5 Minute Chocolate Mug Cake
4 Tablespoons S.R Flour
4 Tablespoons Sugar
2 Tablespoons Cocoa
1 Egg
3 Tablespoons Milk
3 Tablespoons Oil
3 Tablespoons Choc Chips
1 LARGE mug
Add dry ingredients to the mug, mix well.
Crack an egg and add to the mug. Mix well, getting into all crevices of mug.
Pour in milk and oil, mix well.
Add choc chips.
Put mug into the microwave and cook for 3 minutes (max power, 1000Watt)
Wait until cake stops rising and sets in the mug.
If necessary, run a knife around the sides of the mug and tip the still warm cake onto a saucer.
Eat.
YUMMO, tastes even more brilliant with chocolate sauce.