well I thought I'd upload it here too.
If you play along leave me a link to your page.
As you would all know I love my paints, so I thought I'd show you a few different styles/techniques that you can achieve with them
First off here I've used a mask, didn't use paint on this but Glimmermist, (was too lazy to get my spray bottle out for my paint). Very easy to achieve, just place your mask down on the surface your working on and spray over the top, also if you have dabbers they work brilliantly with mask's less hassle and no clean up. I love the way the glimmer mist has seeped underneath the mask but still leaving an outline aswell.
With this example I've used my dabbers on my stamps, it's like they are made for each other. I love the not perfect lines the paint creates and it adds to a bit of a grungy feel too.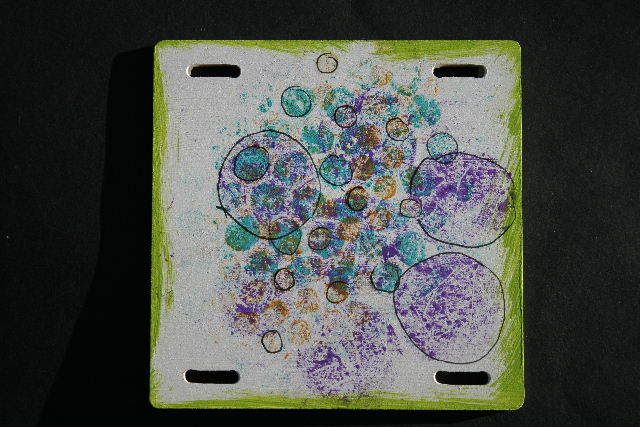 Just the good old bubblewrap, I've used three different sizes here, and outlined a few of the bubbles with a black pen for definition. It's amazing what different things you can use around the house for stamping, I've used onion bag mesh, those meshy placemats, lids off bottles, cookie cutters, old necklaces, the wheels off kids toys. Really the list is endless, you can stamp with anything that has texture.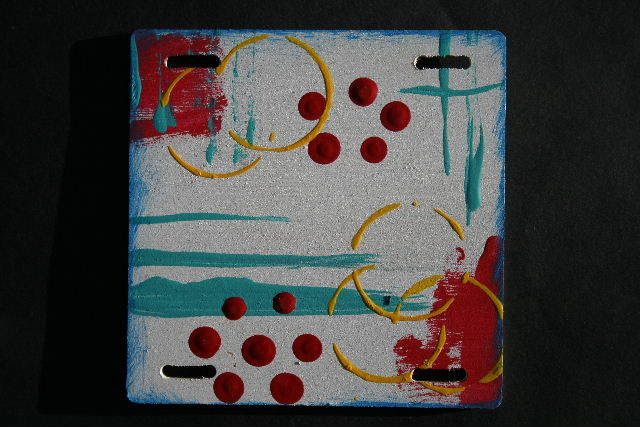 I love to decorate my backgrounds, for this I've just used a cotton bud for the dots, and old credit card for the lines they are great for doing straight lines, and smearing paint over your background, also I've used a lid off one of my dabbers for the yellow circles. So easy to create funky and unique backgrounds.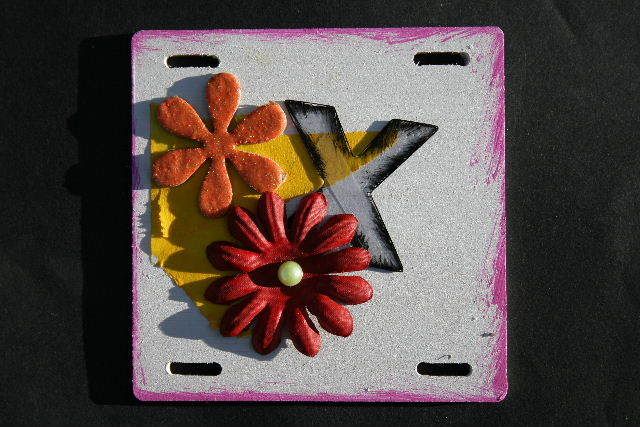 For the final paint play I'm just going to show you a few different ways you can use your paints on your embellishments.
Don't have the right colour flower, too easy, just paint it to match, this comes in handy if your like me and like black flowers (just can't find many though)
Masking tape is fantastic to use, I've done a few masking tape backgrounds so quick and easy to paint and tear and place all over your page, makes for a great border around your page or even just a cute little photo corner, also you can use it for your journalling.
Old faithful chipboard, yep we all know how to paint it but have you ever put embossing powder over the top while the paints still wet and heat embossed, makes for a very quick and easy embellishment and saves on the waiting time on DM. Looks great when you use a glitter embossing powder too. No kindyglitz drying time either. Can it get much better.
And lastly transparent elements, so easy to get them lost in your page, but for a little defintion, you can slightly paint the edges, or if you feel like it paint the whole thing, looks great when you stamp over the top with some fun stamps too.
So this is the end of my little bit of messy fun.
Suppose your wondering where the competition comes into it hey?
I'm going to give a little prize away to the person who I feel uses the above techniques in the most creative way.
You have until midnight 18th July to get your entries in so get creating.